Silverton Alpine Marathon & 50k
Silverton Alpine Marathon & 50K

RACE INFORMATION
General
50 Kilometer and Marathon (~26.7 Mile) loop in the San Juan Mountains of Colorado. The course follows the "Alpine Loop" jeep roads past the ghost mining towns of Howardsville, Eureka, Animas Forks and Gladstone. High point is California Pass at 12,930 feet!
Date
Sunday, July 14, 2019
Start Times
7:00 AM 50 Kilometer
8:00 AM Marathon (26.7 miles)
Location
Start / Finish at Memorial Park
Greene & 18th Street
Silverton, CO 81433
Course Summary
Follows Alpine Loop mining road counter-clockwise linking historic mining ghost towns, Howardsville, Eureka, Animas Forks & Gladstone. High point is 12,930 ft atop California Pass. Low point is Silverton at 9,318ft. Total vertical gain is 3,800 for the marathon and 4,400 for the 50k. The 50K runners will complete an out and back to Niagara Gulch before joining the Marathon course.
Weather
Summer temperatures range from high 30's to low 80's. Sudden and violent thunderstorms are common, especially above tree-line. DO NOT attempt this race without adequate warm clothing and rain gear.
Forecast for Silverton, CO
Bib / Shirt Pickup
Saturday, July 13
3:00 PM – 5:00 PM
Memorial Park (Race Start/Finish)
(Registration will be available)
Sunday, July 14
6:00 AM – 7:45 AM
Memorial Park (Race Start/Finish)
(Race Day registration will be available)
Aid Station
Six aid stations well-supplied (except aid #6 which is water only) with food, water & sports drink (Gatorade). It is highly recommended that you carry water with you between aid stations. Aid Station Volunteer Form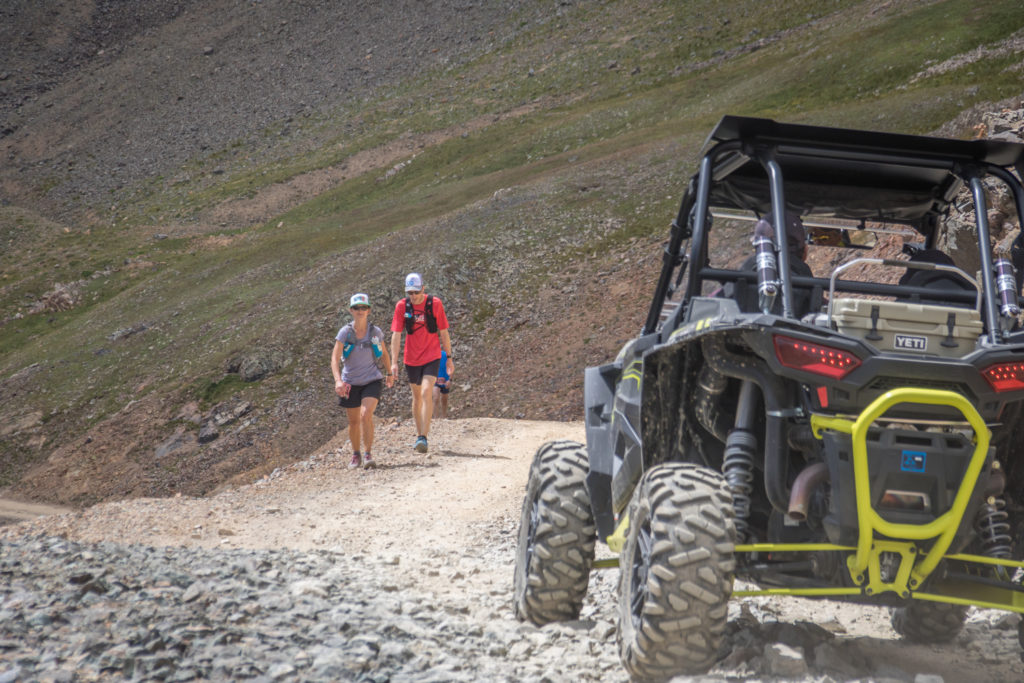 Race Perks
Race shirt (Men's & Women's styles)
Barbecue in Memorial Park at the finish
Finisher pint glass
You're in Silverton, what else do you want!?!
Awards
Awards (finisher glass) will be given to finishers in the marathon if completed in under 10 hours and to the 50k finishers if finished in under 11 hours. Special awards for Men's/Women's Overall winners. Awards ceremony around 1PM on Satday.
Volunteers
If you are interested in volunteering at one of our aid stations or at the start/finish line sign up here:
Silverton Alpine Marathon & 50K Volunteer Sign Up
REGISTRATION

Registration will be available at packet pickup on Friday (3:00-5:00pm) and Saturday (6:00-7:45am) at Memorial Park.
Registration Options
Online at Ultra Signup
Mail-In Entry
Available at packet pickup & race day too!
COURSE INFORMATION
Elevation Profile

Silverton Alpine Marathon Elevation Profile

Silverton Alpine 50 Kilometer Elevation Profile
GPS Files
Marathon GPX | KML
50KM GPX | KML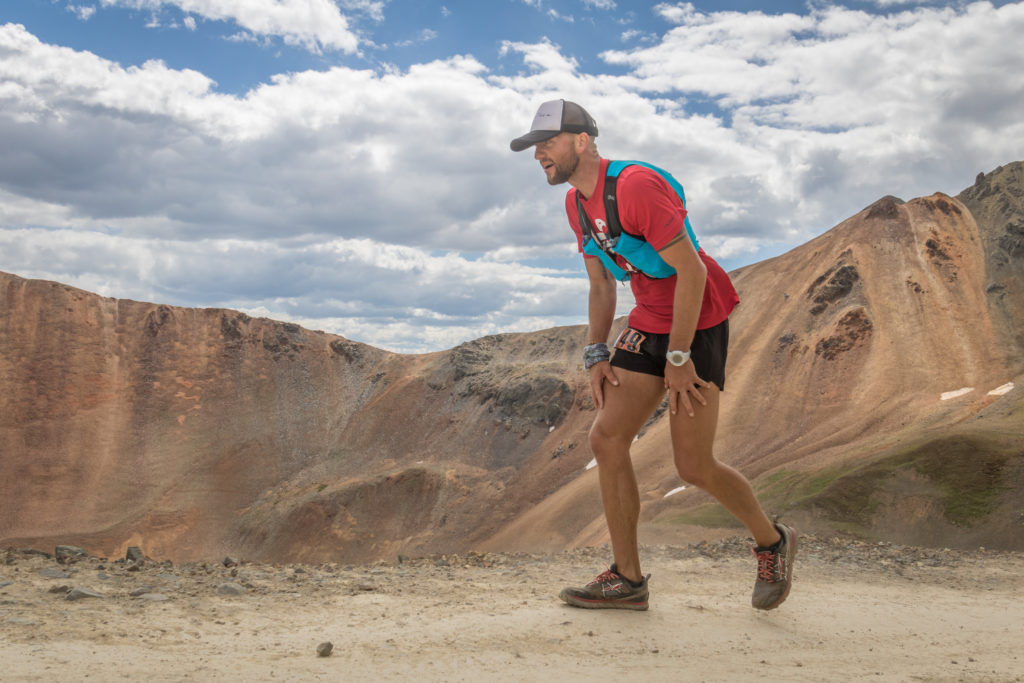 Course Description
50 Kilometer: Before joining the Marathon course, head out of Memorial Park up Highway 110 towards Niagara Gulch and Gladstone. Run 2.3 miles to the turnaround point at the Niagara Gulch checkpoint/water stop and return to Memorial Park for aid and then join the Marathon course:
Marathon: Leaving Memorial Park, follow 18th Street to Cement Street, turning left and then running through Silver Lakes campground. Proceed straight on this road until you intersect asphalt road (County Road 2). Turn right on CR 2. . Follow asphalt road for approximately ¾ mile.
Howardsville: (4 miles; +380 feet cumulative climb; overall this section is fairly flat and fast with minimal rocky footing)
At the base of the big asphalt climb, 100 yards after red brick "Powerhouse" on right -side of road, turn right onto narrow bumpy gravel road. DO NOT follow asphalt road up the climb. Go straight on rocky gravel road that runs alongside the Animas River for approximately 2.5 miles to Howardsville aid station. **NOTE: There is one minor stream crossing as part of this section. You may be able to cross the stream without getting wet feet…or you may not. At this point, you are allowed to go left off course and climb up above the big metal pipe out of which the stream water flows. It is up to each runner to decide how to proceed. Look for the Howardsville aid station before you intersect the big gravel road at mile 4.
Eureka: (7.6 miles; +600 feet cumulative climb; overall this section is flat and fast with smooth gravel footing)
After Howardsville aid station continue straight on County Road 2 Follow main road 3.6 miles to Eureka aid station. Look for aid station on left side of road, shortly after crossing bridge over Animas River before starting big climb.
Animas Forks (11 miles; +1,800 feet cumulative climb; this section is the beginning of the race's big climb, there are few flat spots)
Proceed straight up on this rocky jeep road. ½ mile before Animas Forks aid station, road forks. Go LEFT!! DO NOT follow road to Engineer and Cinnamon Pass. Look for aid station somewhere in old abandoned town-site of Animas Forks.
California Pass (12,960ft) (16 miles; +3,560 feet cumulative climb; this is the big climb; steep grades near top of climb; watch for sheep in upper valley)
Proceed straight on this even rockier jeep road. Take the right fork at the Placer Gulch intersection. Look for aid station at the very top of California Pass.
Gladstone (19.8 miles; steep rocky downhill section)
After California aid station proceed down rocky gravel road approximately ¾ mile. Take the left fork at Poughkeepsie Gulch intersection. Follow sign that reads "Silverton". Climb about 400 feet to top of Hurricane Pass (12,400ft). Follow rocky road down steep descent. At Corkscrew Gulch intersection take left fork continuing downhill. Keep going straight down hill to Gladstone aid station. Look for aid station on left side of road about 100 yards after intersection with wide gravel road.
Niagara Gulch (24 miles; smooth gravel road; fastest section)
Proceed straight on wide gravel road (CR 110). Approximately ¾ mile past Silverton Mountain Ski Area (on your left), at base of short steep hill, make an easy right turn onto narrow rocky road, shortly after which will be a very minor (if at all) stream crossing (there is no way to circumnavigate this stream crossing). After following rocky road for 0.9 miles you will be lead back onto main wide gravel road. Follow this road to Niagara Gulch aid station, on right side of road, about 2 miles from finish line.
Finish
Last ¾ mile is asphalt road with some shoulder. Run through the grassy field at Memorial Park to the finish line. Congratulations!
RACE DAY INFORMATION
Race Day Schedule
Sunday, July 14
6:00 AM Packet Pickup & Race Day Registration at Memorial Park
7:00 AM 50 Kilometer Race Start
8:00 AM Marathon Race Start
1:00 PM Awards Ceremony
6:00 PM Cutoff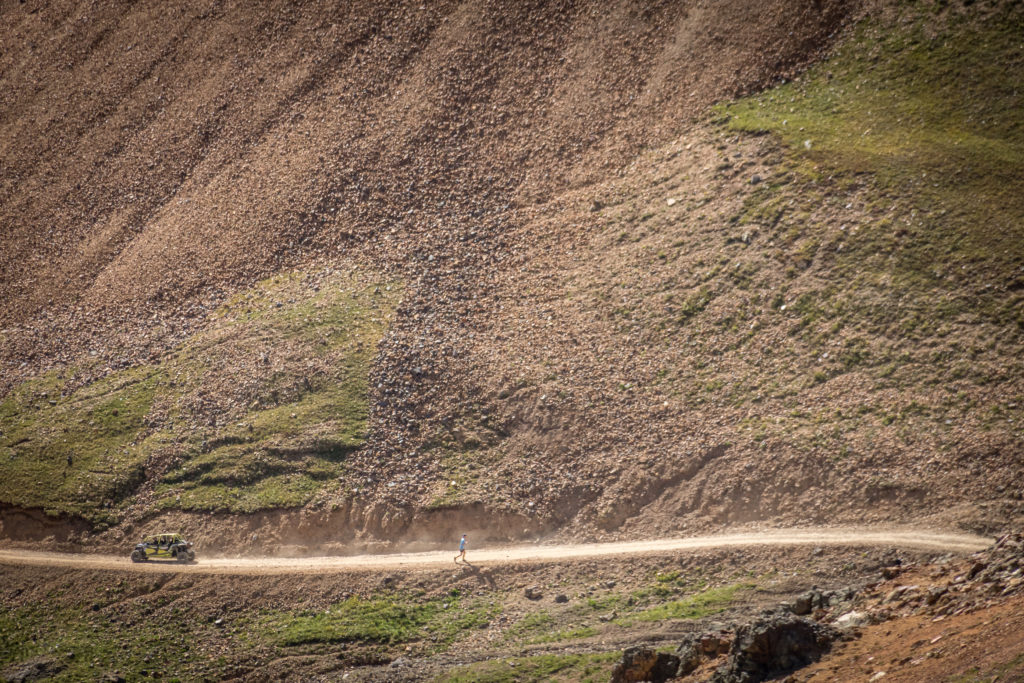 Cut-Offs
The course must be completed within 10 hours for the marathon and 11 hours for the 50 kilometer, to receive an official finish. All official finishers will receive an award. Any runner finishing after the cut-off will be given an "unofficial" finish time but will not be eligible for an award.
You must check out of the California Pass aid station by 2:30pm
You must check out of the Gladstone aid station by 4:00pm
Drop Bags
A drop bag may be placed at the start/finish line only. 50K runners will access the start/finish after the first 4.9 miles.
Race Timing
We will be utilizing a chip timing system at this event to record your finish time. Results will be posted using "gun time" only. You will be provided with a timing chip attached to the back side of your race bib. Please do not fold the area of your race bib where the timing chip is attached.
Parking
Parking will be available in Silverton next to the park and on main street (Greene).
Camping
There are several places to camp around Silverton (both paying campsites and free national forest camping).
Lodging
Check out lodging options over at www.silvertoncolorado.com
Restaurants
Check out the restaurant options at www.silvertoncolorado.com